Las Bambas is a joint venture project between the operator MMG (62.5%), a wholly owned subsidiary of Guoxin International Investment Co. Ltd (22.5%) and CITIC Metal Co. Ltd (15.0%).
With an estimated mine life of 20+ years, the operation produces copper concentrate, with by-products of gold and silver, as well as molybdenum concentrate through conventional processing methods.
Ore at Las Bambas is mined from an open pit. The ore is crushed and transported on a 5.5-kilometre overland conveyor to a conventional flotation plant where copper concentrate is produced, then to a molybdenum plant for further processing. Concentrate is then transported by truck and rail to the Port of Matarani in the Arequipa region, where it is shipped to customers worldwide.
After a successful commissioning of the operation and ramp-up, Las Bambas entered commercial production on 1 July 2016. It is one of the world's largest copper mines, with an annual nameplate throughput capacity of 51.1 million tonnes and annual production expected to be between 350,000 to 370,000 tonnes of copper in copper concentrate. Due to the inherent uncertainty associated with COVID-19 and its impacts on Las Bambas operations, we have withdrew our 2020 guidance for Las Bambas on 13 April 2020. Once greater operational certainty is restored, an updated production guidance will be provided.
More information about our ore reserves can be found in our Mineral Resources and Ore Reserves report, and in our Quarterly Production Reports.
The operation employs around 8,000 employees and contractors on a fly-in, fly-out basis. Over 99% of the employees on site are Peruvian nationals, with approximately 20% being from the Apurimac region.
The operation will position Peru as one of the top copper producers in the world and become a strong contributor to social investment and local employment in the region.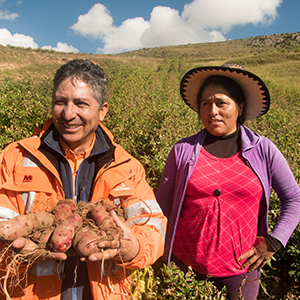 Community Engagement
Las Bambas seeks to build long-term relationships with its stakeholders and promote a model of development in conjunction with the Peruvian State. Communication methods include face-to-face meetings, workshops, print and audio-visual media, online platforms and open events.

Las Bambas has a large community development team as well as permanent information offices in 7 communities throughout the Apurimac and Cusco regions. Residents can visit these offices for information about the operation, submit complaints or enquire about employment opportunities.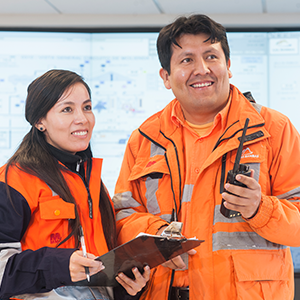 Contacts
Lima Office
Avenida El Derby 055
Edificio Cronos
Torre 3 Piso 9
Surco, Lima

Phone: +51 01 418-4444
Email: contacto.lasbambas@mmg.com
Email Las Bambas